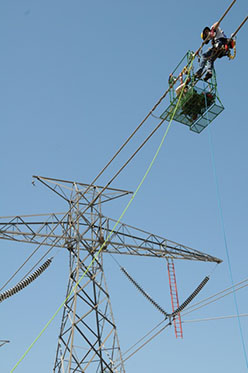 POWER TRANSMISSION LINE ROPE RESCUE


THE only

place

for cutting-edge power transmission lineman technical rescue training beyond the norm...
Transmission linemen

Substation workers

Hot stick crews

Safety personnel/Supervisors


By linemen -- for linemen

HANDS-ON TRAINING BY REED THORNE OF ROPES THAT RESCUE LTD
CONTRACT WORKSHOPS designed to be held at YOUR facility on YOUR towers and lines. Prices vary according to geographical location.
See latest 2011 training:
LOS ANGELES DEPARTMENT OF WATER AND POWER TRANSMISSION LINE ROPE RESCUE PROGRAM
"Ropes That Rescue
TOWER ACCESS & RESCUE
training is simply....unique."
We understand the differences between standard rope rescue, industrial rope access, technical rescue training techniques and equipment and those used in the 'tower trades'. RTR instructor, Reed Thorne, has been working in and around the towers for much of his life. His work with tower rescue training, including high voltage power transmission linemen, is unsurpassed anywhere in the world. Even the History Channel extensively documented Reed's rescue techniques in their series Suicide Missions presentation "High Voltage" filmed with Georgia Power linemen on energized 500,000 volt power lines! No other training company can bring to the table the depth of knowledge in rescue from towers of any kind like RTR. These simple, yet effective technical rescue techniques taught in several RTR programs incorporate the latest developments in lightweight, multi-function equipment that workers would be normally using to provide work positioning and fall protection at elevation. At the conclusion of our training, participants will be better prepared to deal with emergencies they may encounter during routine work assignments.
RTR industrial rope access training focuses on job-specific techniques and extensive hands-on practicals to provide tower workers with the means for both self-rescue and more difficult evacuation of injured coworkers. In these provocative courses, first responder patient assessment and stabilization is taught so that tower worker or lineman can better respond to medical emergencies involved at elevation. Spend between three to seven days learning the techniques from Ropes That Rescue expert instructors either at your facility in four customized contract courses or join us for the annual "open enrollment" Tower Rigging Workshop at a US host facility. See black box below for more information.
Also new...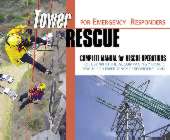 Instructor, Reed Thorne, of Ropes That Rescue Ltd. has just recently completed the first-ever, feature-length multi-media training DVD series "TOWER RESCUE for Emergency Responders"! (Available from Highline Productions) In the near future, the second series "TOWER RESCUE for Tower Workers" will be completed. A full color, 200 page Tower Rescue manual (see cover) accompanies each DVD.
For Linemen: RTR is the only company in the US that offers rope access and rescue training to power transmission line crews. Our industrial rope access rescue practices go beyond rudimentary "pole top" procedures and specialize in not only line worker self-rescue from elevated locations, but in advanced rescue techniques from conductors and locations where pole top or bucket truck access is not possible. For a great open and honest assessment TESTIMONIAL about our transmission linemen training click HERE


"The choice is not a choice at all...
Reed has the years and years of experience with high voltage power lines that others teaching tower rescue lack...

Who else would you trust?"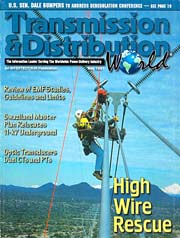 Ropes That Rescue seminars have been featured on the covers of both TRANSMISSION & DISTRIBUTION WORLD, UTILITY SAFETY and ELECTRIC ENERGY magazines. Reed Thorne is also a speaker at many conferences in the power delivery industry including EEI, ESMO 2000, 2002 and T&D World Expo 2000.
...well, who has

RTR taught?...
Con Edison (03' Utility of the Year)
Southern California Edison Company
Pacific Gas and Electric instructors from Livermore Training Center
Sacramento Metro Utility District
Georgia Power Co.
National Security Agency antenna tower technicians
Baltimore Gas & Electric Company
Bonneville Power Admin
US Bureau Reclamation —Grand Coulee Dam Power Office
AZ Dept of Transportation and Florida DOT structural bridge inspectors
San Diego Gas & Elec
Tucson Electric Power
Consumer Energy
Northwestern Energy
Vermont Electric Transmission

Keiwitt Western Co

Edward Kramer & Sons

Salt River Project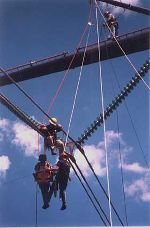 VERMONT ELECTRIC TRANSMISSION CO linemen training on one of their 400 KVDC tangent structures during a Ropes That Rescue 3 day workshop on transmission line rescue. Workshop was held at Island Pond in August 1999 and again in September 2000.