OPEN ENROLLMENT ROPE ACCESS PROGRAM DESCRIPTIONS
Rope Access Skills Workshop - Level 1

RASW 1 key points

Details

Photos
The Rope Access Skills Workshop 1 is an intensive 6 day long open enrollment workshop intended specifically for those who work on rope at elevation. Rope access is used around the world to support or place workers in various environments for the purpose of performing their jobs. This may include, but is not limited to:
Bridge, dam or structural inspectors
High scalers
Construction personnel
Sea platform inspection and construction
Tower workers
The RASW-1 is a full six days in length and is taught at 4,500' in beautiful and historic Jerome, Arizona and provides basic-to-intermediate skills for the authorized rope access worker.
The RASW-1 is entry level and provides training needed for the Society of Professional Rope Access Technician (SPRAT) Level 1, 2 and 3 certifications.
Job site safety!
Applicable federal and state laws on rope access
Knotcraft for rope access work: end line, middle, hitches, bends
Rope access rope and equipment, inspection and care
Rope management
Job site evaluation and rigging for safe working conditions
Two-point contact principles (main/belay)
Rope access equipment:

Descenders /ascenders
Connectors / carabiners / screw links
Fall arrest, work positioning
Helmets, PPE, harnesses, other...
Lanyards

Beginning pulley systems
Complete use of AZTEK kit
Belaying (safety line) techniques and communication
Anchoring principles

Distributing
Multipoint
Fixed and focused
Bolts / hangers
Improvised and manufactures lanyards and slings

Minimum rope access essentials:

Descent and descent-to-ascent
Ascent and ascent-to-descent
Knot passes (ascent and descent)
Passing deviations in ropes (ascent and descent)
Passing intermediate anchors (rebelays)
Rope-to-rope transfers (ascent and descent)
Aid climbing (horizontal)
Rescue of coworker who is descending and ascending
Negotiating the edge in ascent and descent mode
Parapet rescue or worker over the edge
Controlled lowers/raise

Hazard analysis and risk assessment
Communication
Much more
6 Days

Classroom 20%, Practicals 80%
Required Rope Access Equipment
Seventh day SPRAT evaluation is optional (if offered). SPRAT test fee and SPRAT Evalauator fees are NOT included in RASW-1 tuition.
Prerequisites: You must be in good physical condition to participate in this workshop.
Get: RTR Application
Go to: Regstration Information
Find out tuition and next program: See Schedule
Rope Access Skills Workshop - Level 2

RASW 2 Key Points

Details

Photos
The Rope Access Skills Workshop 2 is an intensive open enrollment workshop intended specifically for those who work on rope at elevation. It goes well beyond the standard RASW-1 in scope, and is more designed for those who need additional skills involving artificial high directionals (tripods, bipods and monopods), mechanical advantage (pulley systems), advanced anchoring, and offsetting (tag lines, guiding lines, tracking lines, skate blocks, deflecting lines and two rope pendulums). There is also a session on the use of mechanical capstan winches for raising and lowerings loads.
Ideal for those supervising others or performing themselves, rope access work in:

Bridge, dam or structural inspectors
High scalers
Construction personnel
Sea platform inspection and construction
Tower workers
The RASW-2 is 5 days long (five additional days above the six days in length for the RASW-1) and is taught at 4,500' in Jerome, Arizona and provides advanced skills for the authorized rope access worker.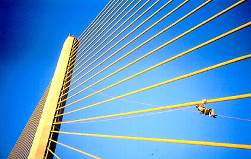 Right, RTR at the Tampa Bay SUNSET SKYWAY bridge for Florida DOT inspection 1998. Special rope access equipment was designed by RTR for this difficult inspection.
RASW 2 key points: (Ideal for supervisors or SPRAT L-3)
See all skills from Level 1 above
Advanced knotcraft
Management of rope access team / Supervision
Advanced anchoring techniques

Advanced bolting (drilling and placement)
Epoxy bolts

Methods of first up climbing with fall protection:

Double lanyard
Advance-placed
Lead climbing

Advanced physics
Rescue options (team or solo)
Building rescue into anchors

Dynamic anchors
Rigging plates
AZTEK (dynamic fixed brakes)

Phylosophy of descending on rope versus lowering on rope
Capstan winch options for rope access
Advanced rescue of rope access team members
Confined space entry via rope access
Use of high directionals in rope access work (Arizona Vortex Multipod)

Monopods (gin poles)
Bipods (A frames and SA frames)
Easel A frames (tripods)

Advanced compound and complex mechanical advantage
SKYHOOK capstan winch raises and lowers
Offsets for rope access:

Tracking lines
Guiding lines
Skate blocks
Deflected offsets

More...
5 Days

Classroom 30%, Practicals 70%
RASW-2 is not offered each year on the Open Enrollment Schedule
ADOT Navajo Bridge Construction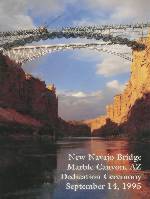 Ropes That Rescue has been contracted to train and supervise high scaling crews for contractors and the Arizona Dept. of Transportation (ADOT). They have designed safe two-rope systems for scalers involved in difficult high scaling operations. RTR riggers are masters at complex scaling anchors and rigging requiring in various rock types including expansion bolts, epoxy bolts and other unique problems relative to multi-rope scaling systems. Two separate safety awards were awarded to teams that were trained and managed by Ropes That Rescue, including the Navajo Bridge rope inspection team for ADOT (see below). This high arch bridge spans the Colorado River in Marble Canyon and was completed in 1995.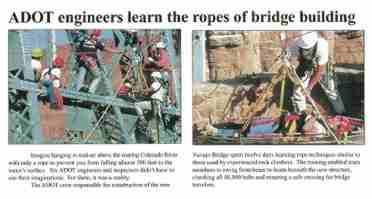 Horse Mesa Dam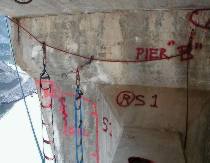 A complete inspection using rope access techniques on the Horse Mesa Dam spillway for Salt River Project in December, 2001.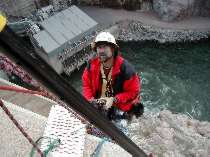 Reed Thorne on descent above tailrace